Archive for the 'The Serious' Category
A year ago today was the absolute worst day of my life.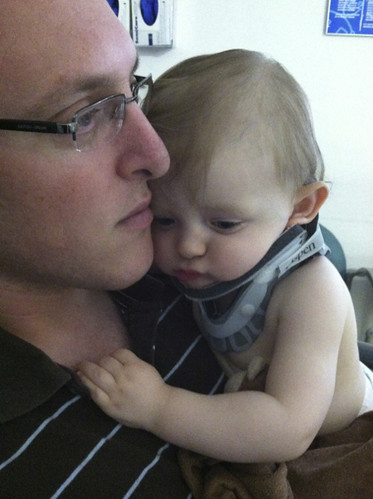 It started out well. My husband had to go to an early conference session, but Eli and I had a nice breakfast in our hotel, we were packing so we could go home, but first we were going to swing by an amusement park nearby since we had only gotten to spend a half day there earlier in the week (and our tickets were still valid) and we just knew Eli would love it. And then it happened. In the blink of an eye, my 10 month old fell head first off the bed and hit the very hard flooring of our hotel room. He screamed a scream I can never unhear. I laid him on the bed and when I picked him up, his head lagged behind and bobbed. He wouldn't open his eyes. He wasn't okay.
The next four days included 3 ER visits, 2 admission processes, and 3 nights in the hospital. It included 2 CT scans that showed blood on Eli's brain. It included frank conversations with neurosurgeons who told us that there was no way to know if our child was going to be okay or if he'd have long term issues. It included IVs, vomit, and more fear than I can ever describe.
And now it's been a year.
My son is now a hilarious, busy, incredibly profoundly normal toddler. If you looked at him for any duration of time, you'd never know that he had a brain injury last year. And I could not be more thankful for that.
If you looked at me for any measure of time, you might not know how profoundly damaged I was either. A year and a day ago, I had a level of parenting innocence I cannot ever get back. I obviously knew that there were risks, but I had never faced the reality of those risks. I had severe anxiety about something happening to my child but even with that fear, I had never truly faced the consequences of something happening. My introduction to the reality that my child was fragile wasn't a skinned knee or a busted lip. It was a bleeding brain. And it devastated me on every level.
I had months where I didn't sleep because all night long I tried to rescue my child from situations that would harm him. I had months where I didn't smile, where I functioned at the bare minimum, working just as much as I had to, parenting just as much as I had to. I had months where I never thought things would ever be good again, even though I could see this incredible person in front of me who despite what happened was fine. I was not fine.
A full year has passed and much has changed. I have a level of awareness that in some ways I'm grateful for. I have a level of appreciation for modern medicine that I cannot possibly convey in words. And more than anything else, I am happy again. My marriage is better than it has ever been. I am more appreciative of the things I have in my life because I am truly, immeasurably fortunate.
I will not pretend that Eli's injury a year ago is something I am thankful for, because I am not and if I could go back and undo it, I would, a million times over. But I have worked hard to make it mean something for my life, for my child's life, for our family. I have worked hard to use it as a way to be a better parent, not in the helicopter overprotective sense, but in the awareness of reality sense, in the being grateful for my family sense. I have worked hard to be a better parent, a better wife and a better person this year.
And a year later, I am happy. I am truly, genuinely happy. A year ago I didn't know if I'd ever be able to feel that way again. 6 months ago, I doubted that I'd ever feel this way again. It has taken hours of therapy, a medication I never wanted to take and time. And here we are.
I am not the mother I was a year ago, and I will never be her again. But I've stopped mourning that reality, because I realized that now, a year later, I'm better than I was last March. I'm now the parent I wanted to be, not the one who was so held back by the fear of something happening that I couldn't give my child space to explore. I'm not the parent who was so afraid of tragedy that I couldn't fully attach to my son and be present with him each day. I am not that mother anymore. I am attached. I am present. And I am truly, in my bones, to my core, happy. And I am grateful for every single day that I get to be this way. For every single moment with my family. I know what is truly at stake in this life and while this year has been indescribably difficult, I'm so glad for all I have learned and for all that I have.
When I think back on my childhood, there were a number of adults who played a major role in my development. My parents, aunts, uncles, grandparents, siblings and the like. But if I had to pick one person who wasn't related to me who played the biggest role in shaping the person I am today, it would be, without question, Kathy.
Kathy was my 5th grade teacher, which I know sounds a little random (and I definitely didn't call her Kathy then and barely can now), but it was a pivotal year for me. 3rd and 4th grade were years where I was tormented every day by my classmates. I was called every name you could imagine, mocked for any and everything and when my mom brought the issue up to my principal, she told my mom that I brought it on myself (which, what?). The people who were supposed to protect me from bullying didn't and it made it very hard for me to trust my teachers. Not to mention, on my last 4th grade report card I got a C+ in math, out of nowhere, and when my mom asked about it, my teacher said that she gave it to me "because Katie needed to be taken down a peg." For real.
So in 5th grade, my mom moved me to a different school and I'm not sure if it was luck of the draw (I suspect not since my mom taught at both my new and old schools), but Kathy was my teacher. On the first day of 5th grade, a classmate who had transferred schools with me started teasing me on the playground and within a matter of moments, Kathy shut it down. For the first time in years, I felt like I had a teacher who had my best interests in mind.
And that year was one of the very best. She fostered in me a love of learning that I had lost. She helped me learn what it was to take responsibility for my mistakes instead of hiding from them. I credit a lot of my work ethic and eventual academic success to her, but more importantly, she gave me self-confidence in a time where others had stolen it away, she gave me trust in adults when I had lost it long before. I came out of 5th grade a different person than I started.
Her influence didn't end there because Kathy and my mother have been good friends for years and she continued to be in my life long after that year. She has been to birthday parties and holidays, she insisted upon doing the calligraphy for our wedding invitations (and it was amazing!) and threw a baby shower for Eli that was incredible. She came to my 30th birthday party last year, which besides her was exclusively family. Because honestly, she feels like family.
And now she has cancer. Last week she had major surgery for an invasive abdominal cancer and had to have a second procedure yesterday for a complication that arose. It surprised me not even a little bit to learn that she ripped out her breathing tube yesterday (she's pretty feisty) and has kept her doctors very much on their toes. She'll be starting chemotherapy soon and has a long road of healing and poking and prodding ahead of her.
There is no donation fund here, I'm not looking for money or food or anything that will cost you money, but I can't lose her. And so I'm sharing Kathy with you. I'm hoping that if all of you take a bit of our story with you and love her a little bit that maybe think about her or add her to your prayer lists or your thoughts, that things will start to make a turn for the better for her.
I'm not someone who tosses the world love around easily and the other day I was talking to my husband and without even thinking I blurted out, "she has to get better, I love her." And truly, I mean it. I love this woman as if she was my own family. I am who I am, so much, because of her and to be honest, I'm scared right now about what she is facing. I'm not ready to imagine a world without Kathy and if you knew her, you would understand. She makes this world a brighter place every single day.
So as a not overly religious person, I'm asking for whatever you can give. If prayers are your thing, please offer some for Kathy and her husband Jim. If thoughts are more your speed, please send good thoughts her way. And if neither of those suit you, please tell someone in your life how much you love them and how much they mean to you. I know I'll be doing that the next time I see Kathy because right now I hate that I've never done it before.
If you want to keep up with her journey, Kathy has a caringbridge page here.
I'm sure it's no secret that I'm a relatively sensitive person. I wear my heart of my sleeve, I'm easily hurt and easily saddened and have a bleeding heart for a lot of causes. But I don't think my feelings right now have to do with being sensitive, but instead, with the gravity of the situation.
Over the weekend, a family put their 2 year old to bed like they have every night for the previous 2 years. At some point in the night, the 5 month old baby woke up and was fed and then everyone went back to bed like always. In the morning, when Meredith went to get her 2 year old up, she discovered that he passed away in his sleep. Jack was a completely healthy 2 year old child and yet, he's no longer here. I don't think it's an exaggeration to say that this is literally every parent's greatest nightmare.
Since I heard about Jack's passing, I can't get an image out of my head. I've never met this family, they are friends of a good friend of mine (and have given permission for me to post their story), but I am devastated for them. I cannot imagine how heart wrenching this has been for Jack's family and I am left, like most people who knew them or knew of them, feeling entirely helpless for these parents.
I can only speak for myself, but when things like this happen, I want to do something, to try to make some tiny bit of difference to these people who are suffering in a way I cannot even imagine. I can't comfort this family in any kind of tangible way, but I can pass along Jack's story and I can, in some small way, help defray the cost of Jack's funeral.
I'm going to post the link to a fundraising site for the family. I can't promise this money is going to Jack's funeral and not to any number of other items. I can't promise that the overflow will go into a scholarship fund or to a charity as the family has promised. All I can promise is that a family lost their little boy this weekend and that giving a little bit of money to help pay for a funeral they never should've had to plan or pay for in their lifetimes, is the very least I can do. Also, any money generated here in ad revenue this month and next will go towards Jack's fund, because I have no desire or intention of profiting in any way from this situation.
If you're interested in helping out this family, please check out their fundraising page. And if you can't or don't want to donate, please keep them in your thoughts and if you're the praying type, pray that they may find peace again and be able to honor their beautiful son, even in his absence.
I have long been an impatient driver. I pass people who are driving slowly, I stick to the leftmost lanes virtually at all times. I try to be within 10 mph of the speed limit, but there are plenty of times where I've gone above that benchmark. When I was maybe halfway through my pregnancy with Eli, I took a step back and realized that it was time to drive more carefully. It wasn't just me anymore and I needed to be more responsible.
In the 13 months Eli has been here, I have made an effort to tailgate less, to stay close to the speed limit and most of all, to drive defensively. I still speed unintentionally from time to time. I still throw my hands up and occasionally my finger up at terrible drivers, but I try hard to drive safely and responsibly. And after last week, I will try even harder.
—–
The drive to Vegas is not a terribly arduous one. There are no windy roads, there are no especially steep grades to climb. It is hot and dull and long. From our house to Vegas, without traffic, would be about 3.5 hours. I knew that if I timed Eli's nap right, he would sleep for a considerable portion of that, so we left around 10.
About 2 hours into our drive, the freeway narrowed to two lanes in each direction. There was a nice consistent shoulder on the right, I assume for the big rigs that would need to pull off in an emergency. On the left there was a wide dirt area between the two sides of the freeway. At some points the dirt was level with the road, at other points there was a big drop off. And at some points there were large bushes/trees scattered throughout.
I noticed that when the road narrowed, there were a few people who were driving less safely than I was comfortable with. They were weaving between cars, speeding faster than the rest of us (who were going a solid 75mph in a 70 speed limit) and so I turned my music down, slowed my speed a little and focused. I felt like I needed to go into that defensive mode, and I'm endlessly glad I did.
A few minutes after I started to get uncomfortable, I was preparing to pass a big rig and was a few car lengths behind the person in front of me, which was probably a little too close, but there were a lot of cars and it was just sort of how things were moving. I noticed a car behind me on my right, coming up toward the back of the big rig. It was a greenish gold compact car and it was going faster than the big rig, but not faster than I was at that point. I assumed that car would fall in behind me since I was very close to passing the rig and there was a fair amount of space behind my car.
I wasn't paying much attention as the greenish car approached but soon I realized it was driving right along side me and that he was rapidly approaching the back of the big rig. And then something strange happened. The greenish car's front bumper was maybe a foot in front of mine (the big rig was CLOSE ahead) and suddenly the car made a move to cut in front of me. There was almost no room between the big rig and me and certainly if I didn't get out of the way, we would've collided. And so I swerved into the center divider, going 75 mph, holding onto the wheel for dear life. I fishtailed and skidded for a long way before coming to a stop.
When I finally stopped, I had so much adrenaline coursing through my body, I am amazed I didn't vomit or pass out. I was flushed, my heart was racing and before I could even catch my breath, I was crying. I stayed in the center for several minutes, trying to calm myself down. I looked in the back and Eli was sound asleep, completely unaware of how close we came to a really severe car accident.
People have died along this stretch of highway, it's not uncommon due to the speed people drive and the way the road is designed. And as we traveled on, I noticed that if this had happened even a mile down the road, we'd have likely rolled due to the big drop off on the left. I don't know what would've happened to us if we hadn't gotten as lucky as we did.
I don't know if that greenish car was trying to pass me or just made an honest mistake. I know that I saw many other cars driving recklessly that day, all in an attempt to get somewhere sooner. Those people rely on everyone else to drive safely, while they speed and weave and put their desire to get somewhere quickly ahead of everyone else's wellbeing. And the reality is that they're only going to get to their destination a few minutes ahead of everyone else.
The fact is that we were lucky. This happened at the very perfect place and if it hadn't, the result could've been horrible. A car accident next to a big rig at 75 miles per hour, especially involving a 5 foot drop off the shoulder would've been catastrophic. I know this and it shakes me to my core. We could've been seriously injured. We could've died. I've nearly gotten in many accidents in my 14 years of driving, but nothing that even compared to this.
My intention in writing this is simple, I want people to slow down. I want people to drive more safely. I want people to stop taking advantage of safe drivers to pave the way for their reckless driving. I'm not asking you this because I have a child, it's not about that at all. I'm asking you to do this because I am lucky to not have been serious injured and because as a former reckless driver, I wish someone had told me earlier how stupid I was being. Maybe you've driven the same way for 10 years or 20 years or even longer, but that doesn't mean that what you're doing isn't stupid or unsafe.
Getting to your destination 5 minutes earlier is not worth the risk of reckless driving. Put your phone down, pay attention to the cars around you and slow down. Please.
While I plan to write about Las Vegas pretty soon, there are a couple of major changes taking place in my life in the next few days, so they seemed more appropriate to discuss.
First, I'm starting medication for anxiety.
I had really hoped not to do this and I've been working hard to avoid it, but everything kind of came crashing down this week. I'm not sure exactly what set it off, but I think the issue is that while Elijah's accident is now 2 months behind us, the anxiety that came with it hasn't left. My therapist (and I agree) thinks I have some fairly significant PTSD that's making pre-existing anxiety even worse. For the past two months everyone has told me that it's normal to feel scared and anxious about what happened to my child, but it's been 2 months and these feelings just aren't normal anymore.
My husband being out of town for a week just took away a critical portion of my support system and with him gone, I fell apart. I wasn't sleeping and following a near miss on a car accident on Friday (more on that soon, too), I collapsed into a horrible cycle of panic attacks. As much as I wanted to avoid medication, I want to avoid being an absent mother, racked with panic attacks more. I will be talking to my therapist tonight about increasing my therapy to twice a week in the short term. My plan is to hit this hard and fast in hopes that it doesn't get as severe as previous bouts of anxiety have been for me. The last time I really struggled with anxiety I dropped about 30 pounds in a very short period of time, which was not healthy nor terribly pleasant for the most part.
But is a good segue into the next major change.
The other thing I'm doing today is starting a weight loss regimen. Not a diet, though there will be changes to my caloric intake, but rather, a major lifestyle overhaul. I'm participating in the Blogging Biggest Loser competition, which is the motivation I needed to finally do this (I hope).
I gained 34 pounds while pregnant with Eli and if we're being honest, I did this by eating whatever I wanted, whenever I wanted in whatever quantity I wanted. I literally ate cinnamon rolls for breakfast every day for 2 months. And oddly, when my 6lb 15oz baby was born, all that weight didn't fall right off. And though everyone told me that all the weight was in my belly, the size of my arms, thighs and butt would prove that all those people were liars.
The day I came home from the hospital, I stepped on the scale and it read 158 pounds. That's 20 pounds more than what I weighed the day we got the positive pregnancy test. And since that day in May 2012 I have lost no weight. I've lost a few, gained a few, but on Eli's first birthday, I still weighed 158 pounds. I wore a 6 or 8 pre-pregnancy and now am lucky to fit into a 12 most days. I can't wear any of my pre-pregnancy pants and only a handful of my pre-pregnancy shirts.
I really wanted to blame pumping and say that I'm just one of those unlucky women who doesn't lose weight during breastfeeding. And I hoped that when I weaned the weight would fall off. Instead, I gained 5 pounds the first week after I quit. It was a bit of an eye opener. My eating habits are bad. My exercise habits are worse. And it was probably only because I pumped that whole time that I didn't actually gain weight.
My husband and I have discussed this at length, particularly as it relates to my history with eating disorders and anxiety and how it's pretty critical that we do this in a healthy manner. It helps that he wants to do a similar overhaul, so I don't have to do it alone. And exercising is always way more fun with a partner.
So today is my official first day of taking control of my mind and body. Here's to hoping that the medication will make a dent in the psychological issues and that the lifestyle changes will help give me some self-confidence and my old wardrobe back.
The past few nights I have had a lot of trouble sleeping. It seems to be a combination of very vivid and intense dreams, a baby who has been whining in his sleep (teething, I think/hope) and anxiety. At first I couldn't pin down what I was anxious about. Things have been going incredibly well lately. The baby is happy and healthy. My husband and I are happy and healthy. Life is good. Which is probably why I had to do some serious digging, at 2am, to figure out why I was unable to sleep. Why I was so panicked.
My husband is leaving for two trips out of state in the next 10 days and that in and of itself is stressful. But that's not the problem. The last time I spent a night alone with Eli was just before his injury. And while I know that the two don't have anything in common, some part of my brain made that connection. And I'm feeling increasingly scared to be alone with the baby. I feel like…I don't trust myself.
And I know it's silly. I stay home alone with him all the time. I am a good mother, I love him tremendously. But I also still carry a tremendous amount of guilt with me for what happened. It's the thing that I'm learning about guilt- I'm not really in control over it. Because even when I wash my hands of it and say I'm done living in that moment and done blaming myself, I wake up at 2am unable to sleep until I piece together why I feel like puking and why my heart is racing and why I can't sleep anymore.
I am afraid for my husband to leave, not because I can't care for my child alone, but because I'm afraid something bad will happen again. That my judgment will slip and I won't have anyone there to act as a voice of reason.
I feel scared. I feel unprepared, like a teenager watching someone else's baby overnight. And the fact that there are 2 separate trips, filled with 2 separate separations is causing twice the anxiety.
I just want to be past all of this. I want to no longer have such vivid images of my child falling off a bed. Of him pale and sweaty, minimally responsive on a hotel bed while I yell at a 911 operator to tell the ambulance to hurry. I want to forget all the times I apologized to my child while we waited for the ambulance, while we drove to the hospital. I want to forget holding an inconsolable child, one in so much pain, one who couldn't stop vomiting, even with prescription anti-emitics. I want to erase all the moments, all the tears, all the terror. And no matter how hard I try, how resolute I am to move past this and enjoy all that's before me, I still can't.
I think about it less and less each day, but the memories are crisp as ever. The sounds, the images, they're all there, waiting in the back of my mind for something to trigger them. A trip out of town was all it took for 3 nights of insomnia to swallow me whole.
I think the most difficult part is knowing that I never really get to forget it. The neurosurgeon told us that there's no way to know if there will be any long term issues related to the injury. Eli is so young now that we really can't assess it. So now, as we watch Eli try to master standing and walking, we're all wondering how much of his slowness in this milestone is from the injury (as the neurosurgeon suggested) or just his development/temperament. And if in 5 or 10 years he has trouble in school or trouble with memory, we're going to wonder if it's from the injury (also as the neurosurgeon suggested). Or if he has balance or coordination issues, or ADHD or any other thing, we will always wonder. We can't ever leave it behind because there's a huge question mark lingering over the future and no way to know what will happen or why.
I remember the scariest part of that day was wondering if I had damaged my child. If I had forever harmed him and changed his future. And the most frustrating and scary part is that I still don't know the answer. And so even though I want to forgive myself and promise to try, I know that these memories and these fears will always be there. Will always be haunting me. Will follow my son his whole life. And that is, by far, the most terrifying.
My family has a long, proud military history. Both of my grandpas served in the Navy and were deployed for more than one tour of duty overseas. My first cousin, who is about 6 months younger than me, served in both Afghanistan and Iraq. And most, if not all of my great-uncles served overseas and like many others, several of them died there.
My great-aunt posted a blurb about one of her brothers today that I wanted to share. Every year on Memorial Day, my grandma and my sister and I would go to put flowers on my great uncle Warren and great uncle Raymond's grave sites. It was always a long crazy trip because my grandma could never remember where the flower shop was and when she did, then finding the graves themselves was always a bit of a disaster, but we made it each year.
Since my grandma died 11 years ago, I haven't been back. I'm hoping that someday we'll be in town and I can take my son and tell him about his great, great uncles (and his great grandma who loved them so much) and the sacrifice they made for our country.
From my great-aunt's post:
My brother, Pvt. John Warren McClure lost his life on Guadalcanal on Feb. 22, 1942. He was 21 yrs old and unmarried. I am the keeper of his things. I re-read today a telegram, hand written to my parents on March 18th 1941. Yellowed and tattered but still legible it reads, "Leaving today… destination unknown….don't worry….will write….love Warren."

Just imagine those days and times and the families left to worry. My brother had not even seen the ocean before he sailed over it. He wrote several poems that were published in military papers.
My grandma used to tell us stories about Warren and the poems he wrote. As with most memories that are several decades old, the details are a little blurred, but I know that my grandma was so proud of her brothers- you could feel it in her words and see it on her face every time she spoke of them.
And so even though I may be painfully politically liberal and about as anti-war as they come, I have a tremendous respect for the sacrifices that our soldiers made and continue to make each day. These men and women put their lives on the line to defend freedom around the world, and for that sacrifice, we remember them today and every day.
Hey Joe
When the ship docked in Australia a few short months ago
A grinning native at the dock hollered "Hi ya Joe"
This name spread as all names do and soon all came to know,
The Khaki clad american soldier by the simple name of Joe.
None of the boys mind their name for every one of them knows
That he's proud to be just one of an army full of Joes.
Now Joe is the name of your best friend, and also of you and me.
He's the guy you meet on the company street, and every soldier you see.
And if these shores should be approached by any foreign foe,
They'd find they'd have to reckon with a bunch of guys named Joe.
So here's to Joe and all his friends where ever they may be.
In Australia, or in the states, or far across the sea.
May the folks back home just realize how much they really owe
That their safety lies in a bunch of guys that bear the name of Joe.
-PFC John Warren McClure
There's a children's song I used to sing when I worked at a summer camp about a bear hunt. At several points in the hunt you reach an obstacle and when you get to it, you chant, "Can't go over it. Can't go under it. Gotta go through it." and then you tread through whatever imaginary peril lies ahead. It's always great fun for the kids to chant along as a little echo and to victoriously traverse the pretend obstacle. The song is in my head lately and the bear I'm hunting is every bit as imaginary as the one my campers hunted all those summers.
Things have gotten easier in the past week. Life has returned to a beautiful version of normal. Eli hasn't vomited in almost a week. He has been off all pain medicine for several days and is doing really, really well. And much of the time, I have been doing well also. But it's been fake.
I've been trying to squirm away from the anxiety that's regrowing. I've been trying to go over and under it. Finding ways to pretend like it's not an issue, shoving it aside constantly. Never going through it. Going through means facing it, means saying words out loud that seem to flow easily from my fingers, a story that I can tell here with little trouble, but which can only be told aloud with tears. And a racing heart. And nausea. And I think I've assumed that if I can just tuck away this anxiety, if I can just go around it, that eventually it will go away.
But no.
Last night, shortly after going to bed, Eli fell backwards off the floor bed (another post coming soon). He was literally 6 inches from the floor, which was a nice padded carpet. But I saw it on the monitor and heard the thunk from downstairs. He cried immediately and I ran, climbing stairs 2 at a time, to get him. He was fine within seconds of me cuddling him, but I was not.
I felt sick. And shaky and horrible. That sound, the one from the hotel room, I heard it all over again. I saw the whole thing happen again. The images I had managed to put out of my head all came rushing back. I thought I would be sick as the fear I had been going over and under suddenly overtook me.
The anxiety is coming out in other ways too. Eli has decided that he would like to exclusively sleep on his stomach, which I know is fine at this age, but the first night in the new bed, I was awake for 2.5 hours, watching him breathe. I went in his room and checked on him 7 times when I thought I couldn't see his back rise and fall anymore. It's a miracle that he didn't wake up. And then this morning when I woke up and it was 7:30 and Eli was still asleep, on his tummy in the same position he was in when I woke up at 4:30, I ran, literally ran, into his room, assuming I'd find my child lifeless. Instead I found him pretty confused and groggy with some fairly excellent bed head.
I feel so frustrated and sad, all at once. I worked through so much of this in therapy. I was happy again. I was relaxed and easygoing and confident. I was enjoying the hell out of motherhood. And now I feel it's falling apart. Whenever I get too happy or start to feel normal again, I hear this screaming chorus of what ifs crescendo in the background. My blood pressure rises, my pulse quickens, my stomach clenches.
I think that Eli's accident reminded me that though the risk of something happening to my child is low, it's not nothing. He got injured in a way that a tiny percentage of kids get injured. We defied odds in the worst way, and I think I'm newly afraid and newly aware that we could do that again, at any moment. Newly aware that bad things don't just happen to other people.
As much as I've tried to shove the fear aside and wait for it to subside, I'm realizing more and more each day that it's not working. That if anything, it's growing and accelerating. It's infiltrating the happy moments like weeds in a garden, and I can't let that happen again. I have to do something because I don't want to feel this way again.
All this is to say I have a therapy appointment on Wednesday that I am both looking forward to in a huge way and am also dreading more than almost anything.
Can't go over it. Can't go under it. Gotta go through it.
I had not planned to write anything more about Dawn, who passed away yesterday. I do not want to eulogize someone I met in person only once, but the heaviness in my heart has led me here, and so I'm writing.
I read Dawn's husband's words this evening and this particular part stuck out to me:
Dawn lived to soothe everyone around her. If you needed to be picked up, she'd find a way to pick you up. If you needed someone to sit in the dumps with you, she'd climb down by your side until you were ready to come back up. Her joy came in the joy of others, and if she had to manufacture that joy, well, that was just fine by her.
This is exactly how I will remember Dawn. She left over 80 comments on this blog, to me, lifting me up, sitting in the dumps with me. Being what I needed, when I needed it. She was a friend, a lovely human being who seemed to derive joy from being a friend. How many people can you say that about? Not many, not enough.
Dawn leaves behind 2 sons and a husband, and a hole in our hearts where our friend was. So many people have expressed heartache over Dawn's passing, and I think that is a tremendous testament to who she was, what she meant to all of us. In a way, I think we feel like a little bit of Dawn belonged to us too, because of how she cared for us in our times of need. And now that she's gone we feel an almost tangible loss, a silence where one of our cheerleaders once was.
I can only speak for myself, but I wish I had realized sooner that her time was winding down. I wish I could've written something to her, been a better cheerleader for her, and let her know how very much I appreciated her in my life. How much I appreciated having her in my corner all the time. And how sorry I am that this had to happen to her.
Instead, I've made 2 vows to myself:
First, I will check my skin. I will wear sunscreen whenever I'm outdoors, I will reschedule that dermatology follow up I cancelled and I will make an appointment for my fair-skinned husband as well. I will be diligent and outspoken about sun safety because of Dawn, so that her death isn't for nothing, so that it may save other lives.
Second, I will be a better friend. Dawn was there for everyone, cared about everyone. I don't know that I'll ever live up to the example she set, but I can do better, I can love more, care more and tell my friends more often how important they are to me. I can lift up others when they need it. It's what Dawn would do, and since she's no longer with us there is a void to be filled, and perhaps we can fill it with love, in memory of Dawn.
If you're so inclined, Mike has asked that in lieu of flowers, donations be made to the Melanoma Research Foundation or to the college funds for their boys.
(I realize that this is a very aptly named post considering that it's April Fool's Day, but none of this is foolish.)
I'm finding the anxiety has been waxing and waning a lot this past week. There will be hours, almost whole days even, where I'm humming along just fine and then I get completely demolished by fear. There isn't a rhyme or reason most of the time, as far as I can tell. It just hits me sometimes. Feelings, images, sounds, all a mess in my mind.
I remember other mothers saying that their kids fell off the changing table and off the bed and I smugly thought to myself that I would never let that happen to my child. Don't these mothers know how to be careful? And now here I am, the judger became the judged. I'm in a state of disbelief. I can't believe I let this happen. I can't believe that it ended up as seriously as it did. I can't believe that it took one second for everything to change like this. It's terrifying.
Disbelief is an feeling filling other parts of my life lately as well.
My friend Dawn, who I've followed on twitter for as long as I can recall, who has been one of the greatest cheerleaders to everyone she knows, is nearing the end of her fight with Melanoma. I find myself completely gobsmacked by it. It's not my tragedy and I do not want to monopolize her family's grief in any way, I just keep being surprised that it's happening. It makes my breath catch at the unfairness of it all. I think I had convinced myself that dying from cancer was something that old, sick people do. Not young mothers with young kids. Not healthy people. And I think Dawn did such a good job of putting on the strongest, bravest front that we didn't even know how bad things were until they were too bad to tell her we loved her and how sorry we were.
I'm in disbelief at the fragility of life.
My uncle, who I wrote about a few weeks ago, lost his mother in early March. And Friday he lost his father. It's just, it all happens so quickly. We are here and then we're not.
It just seems like the certainty I had been comforted by is being pulled away. And maybe that's for the best. Maybe I shouldn't be as assured and comfortable. Maybe I need to live in a world where I can see that one tiny thread can unravel everything. That nothing is permanent.
I'm in disbelief because it seems that the things I've known, that I've held onto and been comforted by, are shifting so quickly. They are revealing new truths I didn't see before, didn't want to see. And it's hard to be in this place of change. I'm scared because everything feels different now. Everything feels bigger and faster and less predictable.
I'm just hanging on for dear life.
Mike, Dawn's incredible husband, has asked that those interested and able make donations to the Melanoma Research Foundation.